Services
Root canal treatment (endodontics)
WHAT IS ENDODONTIC TREATMENT?
Root canal treatment or endodontics is a type of dental service aimed at eliminating infection inside the tooth, primarily by conservative instrumental methods.
We follow the generally recognized foundations of effective endodontic treatment in modern dentistry: tooth isolation, use of a dental microscope, full compliance with the protocols of irrigation and mechanical treatment, electronic canal length determination, volumetric analysis of canal filling.
DENTAL TREATMENT WITH MICROSCOPE
A dental microscope presents the ability to see inside the canal and not to work by touch. Some time ago, this might have seemed redundant, like HD resolution at some point, but the choice is obvious. In addition to the intuitive benefits, one of the reasons a microscope is necessary is that, before its widespread use, not all channels could be detected. For example, it was considered that there are most often 3 canals in the upper molars, but, as it turned out later, there are often 4 of them. This fourth canal is simply complicated to detect and process without visual control.
WHEN ROOT CANAL TREATMENT IS NEEDED
Depending on the type of inflammatory process in a tooth, it may be accompanied by both severe pain syndrome and be mild or entirely insensible for several years. Sometimes an abscess develops; a fistula can appear and disappear.
Sometimes, an X-ray can help detect a trace of bone inflammation, indicating a granuloma or cyst. All these and several other signs can be identified and differentiated only by a doctor in a specially equipped office.
THE IMPORTANCE OF TIMELY ENDODONTIC TREATMENT
Timely treatment of canal infections can significantly improve the prognosis since a neglected or complicated process, even if imperceptible, leads to the loss of the tissues of the tooth itself and the bone.
And this not only complicates the restoration (if the conservative approach can be applied) but can complicate the preparation for implantation if it is impossible to save the tooth.
Case №1
A fragment of a dental instrument was left in an upper side tooth by a dentist who treated the patient in a different clinic. According to an X-ray image, the instrument entered the root canal of the tooth. While the patient did not suffer any discomfort due to this issue, it was decided that the fragment should be removed as it would inevitably corrode and it is possible that the tooth may become painful at any time. 1 – spiral part of a intratubular tool. 2 – apex of a root of a tooth.
Tool fragment was removed. X-ray image taken prior to the filling of the root canal. 3 – fragment is completely removed.
After removing the fragment and using a dental microscope, the treatment was completed by filling of the root canal and indirect restorations (crowns). 4 – tooth after root canal sealing.
Today, in most cases of pulpitis (inflammation of the pulp, tooth soft tissue) and periodontitis (inflammation around teeth roots tips), treatment is carried out conservatively and promptly. After all the necessary examinations of the tooth condition, anesthesia is performed. Treatment of root canals in our Clinic is carried out using a rubber dam, that is, the tooth's isolation from the oral cavity, which prevents the saliva and irrigation solutions ingress into the mucous membranes. The tooth is cleaned, the length of the canals is determined electronically. High-quality root canal treatment is impossible without full treatment and rinsing. Primary treatment includes negotiation, enlargement, and thorough ultrasonic activated irrigation of all tooth canals using visual and X-ray control.
Endodontic treatment's ultimate goal is obturation, filling of the cleaned root canals, the communication between them, and accessory canals with a sealing material. We do not use any toxic and hormone-containing filling materials, as we are interested in the tooth's long-term rehabilitation, not in "healing." For spacial obturation, an inert AH Plus sealer and warm gutta-percha are used, which in the liquid phase fills all anatomical sections of the root canals, which gives maximum tightness, meaning a better prognosis. When granulomas or cysts are present, multiple "medication replacement" in the tooth is no longer required for the treatment. In most cases, filing of the tooth canals is performed during the first, less often the second visit.
Case №2
The clinic was contacted by a patient who had a long-term dental issue. X-ray analysis showed the presence of a long-standing inflammation at the apex of a root, which appeared in the picture as a dark spot with a clear outline. Previously, this issue would have been resolved by a removal of the tooth in question.
1 – the central point of damage with clear contours
Endodontic treatment was performed which included an extension and thorough disinfection of the root canal. The canal was later sealed with a filling.
2 – the filling material in the channel
A follow up examination four months later showed that the bone tissue in the apex of the tooth fully recovered and the tooth no longer caused any discomfort to the patient.
3 – the recovered bone tissue four months following the treatments (the dark spot and surrounding lines are no longer visible)
AN EXAMPLE OF ENDODONTIC ROOT CANAL TREATMENT
Endodontic treatment is performed under local anesthesia. If indicated, treatment under sedation is possible. The process itself usually acts soothingly without additional
means since the patient is in a comfortable chair and does not feel any discomfort.
Сost of treatment
One root canal tooth treatment
From ₴4,800
Two root canal tooth treatment
From ₴5,100
Three root canal tooth treatment
From ₴5,900
Four root canal tooth treatment
From ₴6,500
Permanent filling after root canal treatment
From ₴700 to ₴1,500
ENDODONTIC SURGERY
In several cases of dental periodontitis secondary treatment, when microorganisms have accumulated in inaccessible root tissues, this area's process can be defined as irreversible.
In this situation, endodontic surgery applying root apex resection through a special access, contributing to fast bone tissue regeneration.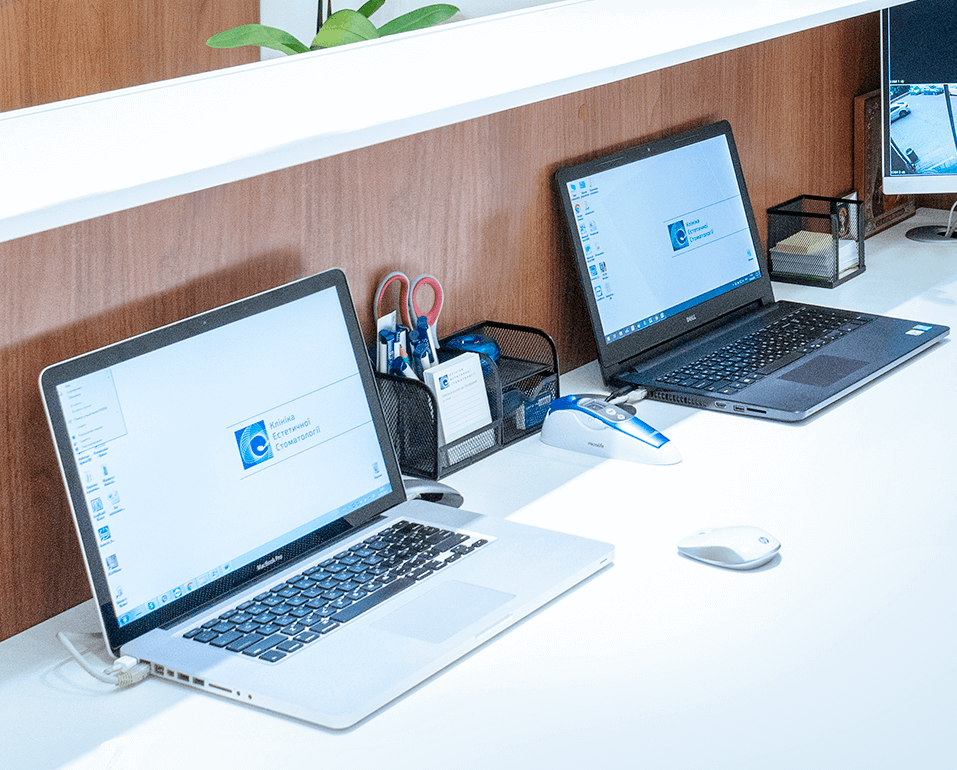 1. Are root canals treatment painful?

Currently, all dental procedures possibly causing painful sensations are performed under anesthesia. You do not need to worry and tensely expect that the doctor is about to "touch the nerve," local anesthesia helps not think about the sensations during the procedure.
2. Root canal vs. extraction: what's the difference?

Root canals are located within the roots of the teeth, holding them in the jaw. The roots remain, and the canals inside of them are cleaned and sealed.
3. Why do I need root canal treatment if my tooth doesn't hurt?

It is not uncommon to have the canals re-treated due to poor previous treatment. The resealing can occur after the treatment, causing root canal infection, making periodontal disease visible through an X-ray. Modern standards of primary root canal treatment almost eliminate the need for further retreatment.
4. Earlier, during root canal treatment, a doctor would replace the medication inside the tooth, but how is it treated now?

The root canal treatment method requiring a change of medication for more than 4 weeks is hopelessly outdated. 1-2 visits are enough for most endodontic treatment cases.