WHAT ARE DENTAL PROSTHETICS?
This is the restoration of missing teeth or their fragments using preparatory restorations, fixed structures (veneers, inlays, crowns, and bridges fixed on teeth or implants), and removable dentures (partial, complete removable dentures, immediate dentures, clasp dentures).
Partial prosthetics are considered in case a patient still has remaining natural teeth. If all the teeth are missing, a complete removable denture is fitted. Dentures can be attached to implants, which is called an Implant-Supported Denture. Such dentures can be removable, partial, and cement-retained.


WHAT ARE COMPLETE DENTURES, REMOVABLE PARTIAL DENTURES, AND BRIDGES?
All removable dentures consist of a pink plastic base on which plastic, composite or ceramic teeth are fixed.
BENEFITS OF COMPLETE DENTURES:
+
feasible for almost every patient.
+
suitable in case of poor oral hygien.
DISADVANTAGES OF COMPLETE DENTURES:
–
the denture in the upper jaw blocks the palate, which can result in a partial loss of the taste sense and sometimes a feeling of nausea.
–
a complete removable denture is fixed only with glue; it is not particularly stable and can move during chewing; this can negatively affect speech and mastication.
–
it should be brushed after every meal
For the reasons stated above, we mainly use them as temporary solution. Removable partial dentures are used when the spaces between the remaining teeth are so large that they can no longer be covered with one or more bridges. Bridges are made when there are two abutment teeth and a maximum of two adjacent teeth missing. Bridges are much more comfortable than removable dentures. They are fixed on the abutment teeth and have a long service life
Different types of dentures can be used depending on the size of the gap or attachment options, namely:
• one-piece bugel prostheses;
• telescopic prostheses;
• implant-supported prostheses.
A combined support using the various elements of the mentioned options is also possible.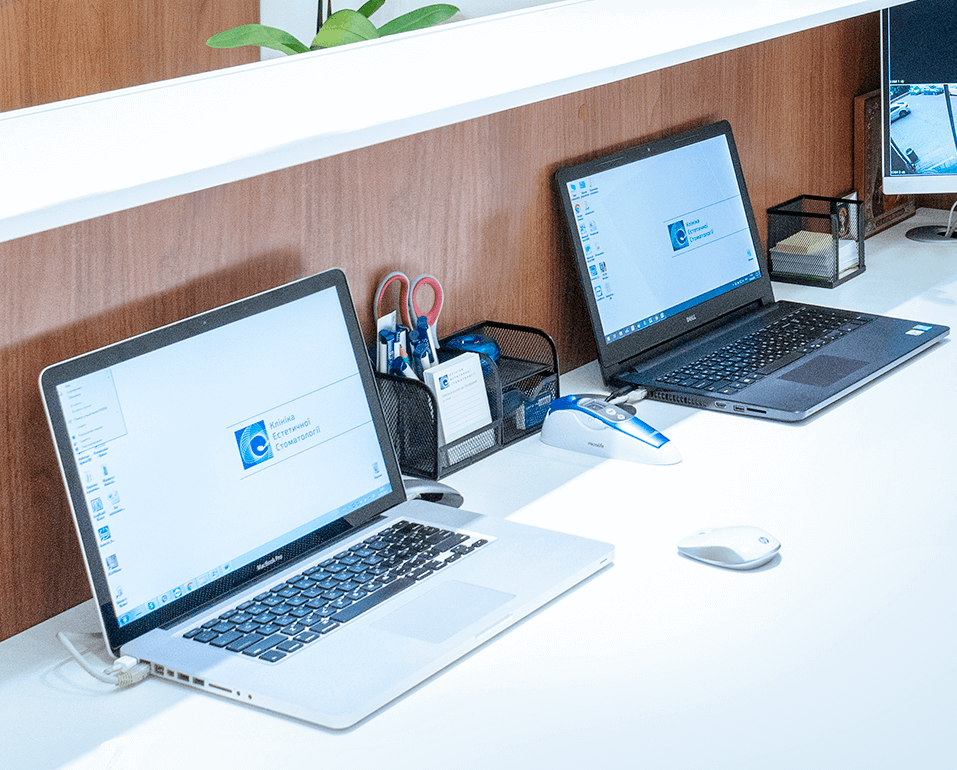 Case №1
A patient from Portugal contacted the clinic with a request to get a beautiful smile. The check-up revealed that most of the teeth were loose; there was a foul smell and bleeding gums when brushing.
We suggested a two-stage treatment: – first stage. The patient had all teeth extracted under general anesthesia; 4 implants were fixed in the upper jaw, and 6 implants in the lower jaw.
Two days later, we fixed the temporary crowns on both jaws. Thus, 4 days later, the patient returned home with a new beautiful smile. Second phase: four months later, we plan to take new impressions to manufacture a permanent denture.
A bugel prosthesis
is a removable partial denture attached to the remaining natural teeth by cast metal clasps or locks. This prosthesis frame is a pink plastic base with attached plastic, composite or ceramic teeth is welded made of an alloy for medical applications.
A telescopic denture
is also a removable denture attached to natural teeth and implants. Unlike the bugel prosthesis, it does not have clasps or locks. It has the so-called telescopic crowns consisting of two parts, allowing fixing it. The primary crown (inner telescope) is attached to a natural tooth or implant and is made of metal. The secondary crown (outer telescope) is embedded in the partial denture and is fitted over the primary crown along with the denture.
Case №2
A patient came to the dental clinic with a request to improve the appearance of his teeth and get a beautiful "Hollywood smile".
A physical examination revealed a large number of teeth affected by noticeable and extensive tooth decay, generalized periodontitis, poor hygiene, deep bite, retrusive profile, and traumatic occlusion.
The dentists set the task of changing the dental bite, shape, color, and dentition.It was also necessary to determine which teeth will be removed. The patient refused from orthodontic treatment. He lives in Italy and could visit the clinic regularly.
The patient was satisfied with the aesthetic and functional outcome of his implant treatment.
We extracted the teeth numbered from 15 to 25 and from 35 to 45. We left only eight molars (16, 17, 26, 27, 36, 37, 46, 47), immediately placed six dental implants into each jaw, and after a few days, we fixed temporary crowns. The remaining teeth were treated and replaced with temporary crowns.
Four months later, the patient had his dental impressions retaken and zirconium screw-retained permanent crowns were manufactured.
Implant-Supported Prosthesis Implant-supported prostheses are used when there are few or no natural teeth left.
Dental implants are artificial tooth roots that are implanted into the jawbone. Depending on the condition, a crown, bridge, or prosthesis can be attached to the implant.
1. How long does it take to fit a prosthesis on a dental implant?

There are several types of implant load. We often use a protocol for loading the lower jaw after 2 months and the upper one - after 4-6 months. Sometimes we apply immediate loading: prosthesis connected to the dental implant right after the implant placement. This method is used most often for esthetic reasons important for a patient. This allows preserving the anatomy of the soft tissues around the teeth and feeling comfortable. In case we use Trabecular Metal Implant from Zimmer Biomet, we can fix the crowns six weeks after the implant surgery.
2. How long can a temporary crown last?

Here the name "temporary" says it all, meaning you can only use it for a short period. It is used until a permanent crown is made. If during this time it comes off (the temporary crown is fixed to the tooth with temporary cement), you will need to contact your dentist for re-cementation. If you cannot get your temporarily installed crown replaced with a permanent one, please note that you should not have it for more than a month. However, this figure can vary. And it all depends on the case. Since the temporary structure cannot correctly perform all tooth functions, it is not worth delaying it by replacing it with a permanent tooth.
3. How long does it take to make an implant crown?

Depending on the clinical situation, we will make a crown for you within 3-8 days.
4. Fixed or removable dental restoration?

Dentures can be fixed, overdenture, and removable. Fixed dentures are always a high-quality, reliable, and durable solution. With such a prosthesis, the patient's jawbone is preserved, and the prosthesis itself provides excellent stability and makes a patient feel confident. The only drawback is the inability to remove them after the initial installation easily. An overdenture restoration is retained by natural teeth or dental implants and is a good option if a sufficient number of implants for a fixed restoration cannot be placed. If an overdenture is implant-retained, it will also preserve the jaw bone. Such prostheses are removable, easier to repair, and clean professionally. Removable dentures are fitted in cases it is impossible to install fixed or overdenture restorations for various reasons. The advantage of removable dentures is that the patient can remove them without assistance, affordable price, and ease of manufacture.