The Neglected Teeth Treatment: What to Start with?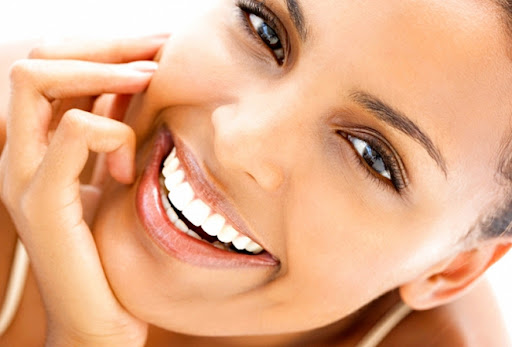 This service is provided by doctors:
Dental Therapist
Top-level dentist, orthodontist
Treating teeth at the initial stage of tooth decay is highly recommended. However, most patients visit the dentist when they start feeling pain. This is often accompanied by inflammation and swelling of the gums, bad breath, rotting, deep cavities and other problems.
Bad teeth are treated successfully with the proper technique. However, the process takes a long time: from 3-4 weeks to several months.
The main goal is to heal the oral cavity completely.
What does this mean:
dental specialist treats cavities on all teeth, including the complicated forms;
heals chronic infections in the oral cavity;
replaces poor-quality, broken fillings and crowns;
heals gums and mucous membranes inflammation;
restores a complete set of teeth (up to 32);
helps restore the correct anatomical shape of the teeth;
removes plaque and tartar;
if possible, dresses orthodontic problems.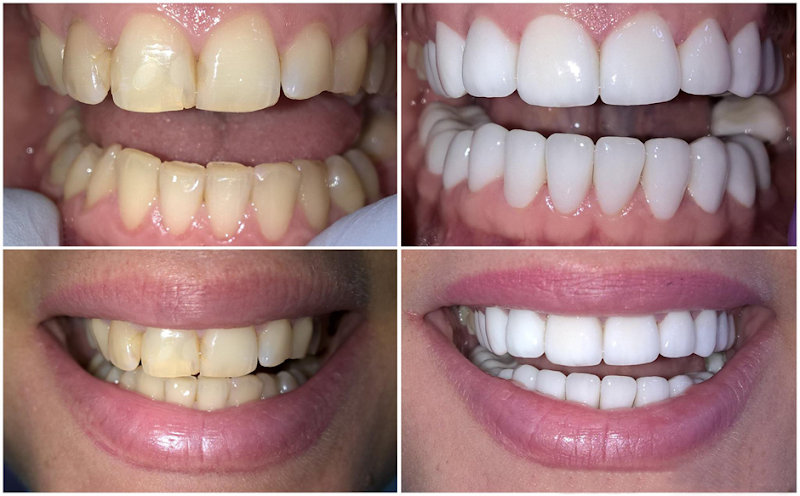 Where Is the Best Location to Treat Teeth?
The right choice of a medical facility is the guarantee of quality treatment and lack of further dental problems.
When searching for a clinic, take into account the following criteria:
staff qualifications;
range of services;
state-of-the-art equipment;
pricing policy;
reputation;
working hours;
location.
The Clinic of Aesthetic Dentistry has been providing comprehensive dental services and prosthetics, implantology and orthodontics for more than 20 years. We use innovative technologies to eliminate problems without pain or discomfort. In prosthetics and implant placement, we use modern high-strength materials.
The team consists of experienced dentists – surgeons, therapists, hygienists, orthodontists, orthopedists and anaesthetists. In addition, all doctors regularly attend advanced training courses, workshops, international conferences and symposiums as lead speakers.
The medical centre is equipped with the latest technology. For example, a dental microscope is available for a better and more thorough professional teeth treatment, canal cleaning and results monitoring.
The Clinic of Aesthetic Dentistry provides the following services:
treatment of cavities and all types of their complications;
tooth extraction;
healing inflammatory processes and gum diseases;
veneers placement;
dental implantation and All-on-4 concept;
dental prosthetics;
restoration of bone tissue;
dental restorations;
braces placement;
professional cleaning and coating with remineralising (protective) varnish;
cavities and gum disease prevention.
The dental clinic is located in the centre of Kyiv, close to public transport stops (360 m) and metro stations (500-700 m). There is paid and free parking in the vicinity.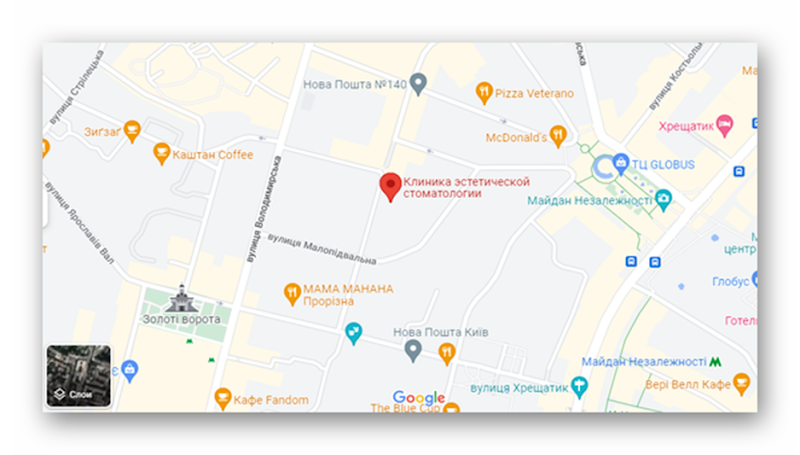 Neglected teeth
The following changes are typical for decayed teeth:
hard tissue decay with resulted cavities;
plaque and calculus;
some teeth are entirely missing, or only the root remains.
Gingivitis, periodontitis, and other gum disease are often present.
Causes of tooth decay and inflammation:
Poor oral hygiene and dental care routine. If you do not use toothpaste, flossing and other hygiene products, it provokes the intensive reproduction of pathogenic microorganisms.
Lack of vitamins and minerals in the body. Lack of vitamin D causes tooth decay. Lack of vitamin C causes inflammation and bleeding of the gums.
Hereditary factors. Weak and sensitive enamel, a tendency to destruction – all of these may be transmitted genetically from parents to children. Even good oral hygiene, in this case, has little effect on the situation.
Regular intake of pastry, muffins, sour drinks, and fruit contributes to enamel erosion. Food stuck between the teeth after a meal, especially meat, can also cause damage.
Weakening of the immune system. Teenagers, people with autoimmune diseases, and pregnant and breastfeeding women are the most vulnerable. Therefore, it is essential to treat your teeth while you are still planning your pregnancy and strengthen them if possible.
Smoking, drinking alcoholic beverages and drug use. Nicotine causes intense darkening and enamel erosion. Consumption of alcoholic beverages leads to dentin damage. Drugs cause significant problems with the teeth (discolouration, crumbling, destruction) and gums.
Chronic diseases of the internal body organs. Oral health is most severely affected by the following diseases: diabetes, osteoporosis, cancer, STDs, HIV, oncology, Alzheimer's disease, and epilepsy. With some pathologies, people are forced to take medications that destroy tooth enamel regularly.
Poor environmental conditions. In places with a lot of exhaust gas and constant smoke from harmful industries, radiation emissions negatively affect the tooth condition.
You should visit your dentist immediately if you have yellowish or dark stains, bad breath, increased enamel sensitivity, or aching pains.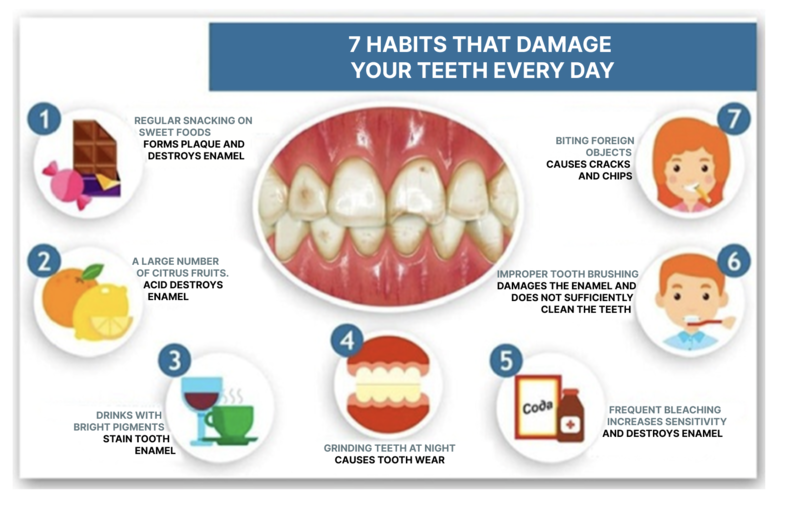 How Do I Treat my Teeth?
The dentist usually makes a treatment plan. For example, for acute pain, they first identify and eliminate the source of the pain and then treats it step by step.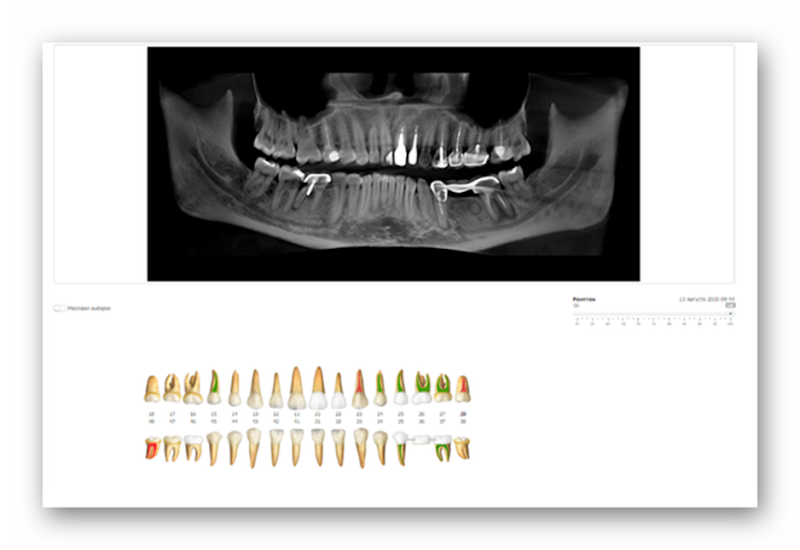 Diagnosis
Before dental treatment, a complete examination of the oral cavity must be performed. For this purpose, a CT scan or an orthopantomogram is indicated.
Based on X-rays and visual examination, the following issues are determined:
hopeless teeth – they will have to be extracted;
conditionally preserved – you can try to treat them, but if the result is negative, they will be pulled out;
teeth requiring treatment – they can definitely be preserved;
healthy teeth – they need no treatment.
Anesthesiologist, orthodontist, prosthodontist, dental surgeon and other specialists are involved in the consultation and treatment plan, if necessary.
Professional Cleaning
Treatment of neglected teeth begins with professional oral hygiene. A dentist uses ultrasound, Air-Flow, and special toothpaste for this purpose.
As a result, the enamel is cleaned of stains and tartar, the oral cavity microflora is restored, and the source of the unpleasant odor disappears.
Treatment
First, all affected teeth that cannot be repaired are extracted. This is necessary to allow the gums and bone tissue time to recover before the prosthetic work begins (4-6 months).
In some cases, the implant is placed immediately after tooth extraction. This is a minimally invasive technique. It allows you to do this without cutting the gums and suturing. However, one-stage implantation is impossible if you have untreated tooth decay or the condition of the bone does not allow for the procedure.
Treating a tooth with moderate or deep dental decay requires drilling out the damaged tissue. If there are complications in pulpitis or periodontitis, a dental specialist removes the nerves and treats the root canals. All manipulations are performed under anaesthesia or sedation. The final treatment stage is filling.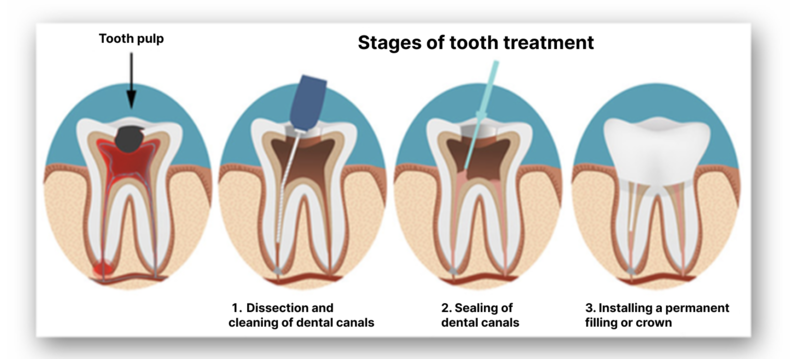 At the same time, inflammation of the gums is healed. Otherwise, the roots could be bare, or the teeth could begin to loosen.
The final stage is the placement of implants, crowns and veneers. This stage usually starts when the teeth and gums are completely healed and there is no oral infection.
What Happens if my Teeth Are not Treated?
Untreated teeth can have serious health consequences:
headaches;
Inflammatory processes spreading to the sinuses, including chronic tonsillitis;
penetration of pathogenic germs through the gastrointestinal tract and occurrence of concomitant diseases;
development of endocarditis (inflammation of the inner lining of the heart);
hearing loss etc.
It is essential to visit the dentist when the first unpleasant symptoms appear. Then dental diseases can be treated at an early stage.
In our clinic, you will always get qualified help. Please, contact us!