High-quality Dental Prosthetics: New Technologies in Dentofacial Orthopedics
Modern dentistry has reached an entirely new level in solving almost any dental problem. Even with a partial or complete anodontia, restoring it is pretty simple. Modern dentures are comfortable and functional. They help easily chew food and feel free to smile. People around will not notice that the teeth are artificial.
Today there are many types of prosthetics. This article will discuss all the types, in what and when.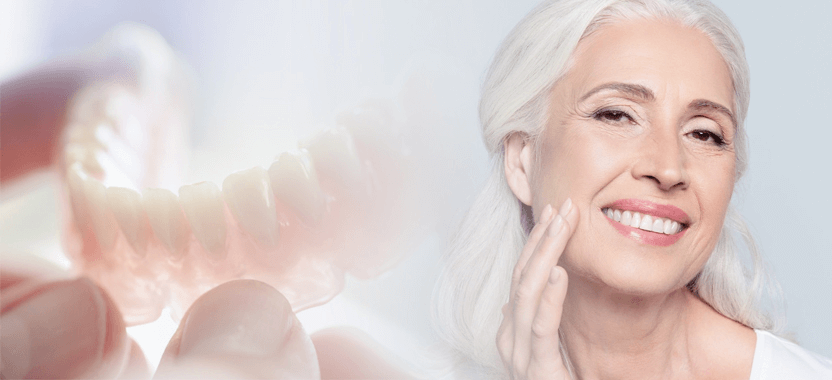 What are dental prosthetics, and why is it needed?
Dental prosthetics is a technique for restoring all the functions of the mastication apparatus.
It is used when:
one/several teeth are missing;
a row of teeth is missing;
one or more teeth are severely damaged (only part of the tooth or root remains);
it is necessary to improve the functional or aesthetic characteristics of the teeth.
Why is it important to fit the prosthesis timely?
The loss of even one tooth threatens serious health problems. In addition, uneven chewing load leads to displacement of the rest of the dentition, malocclusion, etc.
Healthy teeth gradually become crooked and weaken. If you do not take action in time, they may begin to fall out.
In addition, not chewing food properly can affect gut health.
It is better to solve dental problems right away if you have them. Then, a prosthodontist will help you choose and fix the suitable prosthesis.
Modern dentures and their types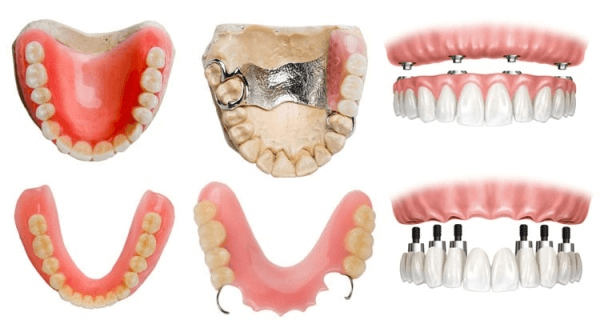 There are three main types of dentures:
fixed;
removable partial;
removable.
Fixed Dentures
They are designed for permanent wear and don't need to be removed. Instead, they are fixed in the right part of the dentition and become a reliable replacement for natural teeth.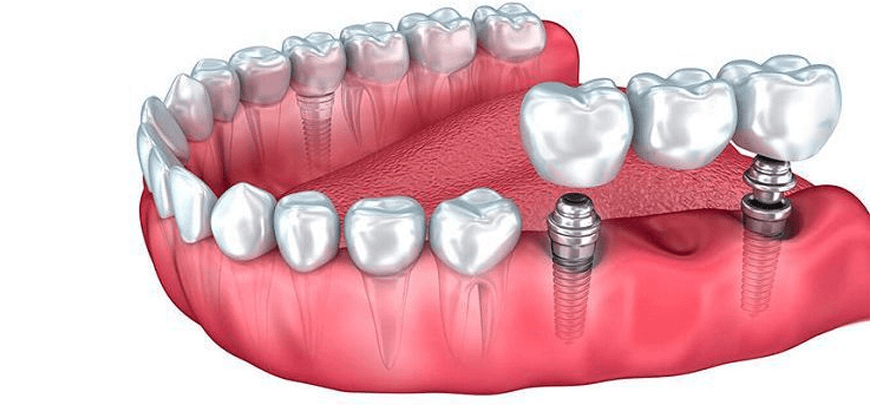 There are the following types of fixed prostheses:
inlays are used to fill the cavities; they can be metal, porcelain or all-ceramic;
veneers are thin plates, the purpose of which is to hide external defects of the teeth; when the damage is insignificant, they are attached to the surface of the tooth;
crowns are used when the root of the tooth remains and is still strong enough; it is a complete imitation of a natural tooth with the preservation of all its functions;
bridge – used when you need to restore several teeth in a row; it looks like two or more crowns connected;
implants are placed into the jaw with a crown attached; it is used in case of complete anodontia.
Removable Partial Denture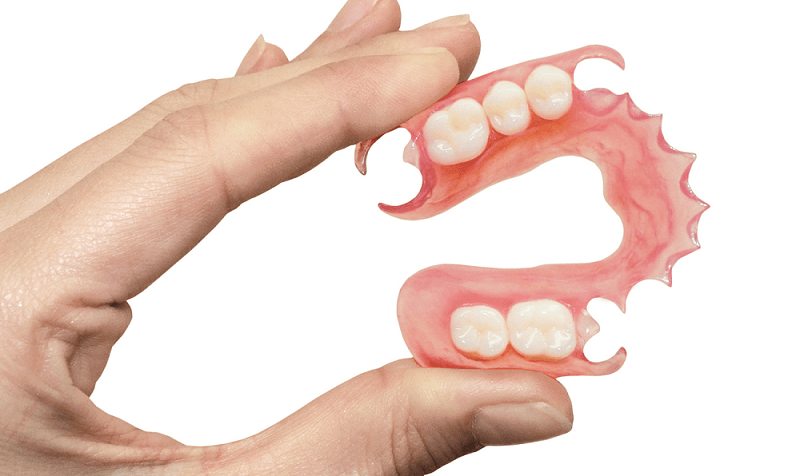 These prostheses are suitable for patients with two or more missing teeth, more often posterior teeth.
Usually, they are manufactured from plastic, and metal is used for the hooks or locks necessary for fixing.
Removable partial dentures are usually used as a temporary measure until permanent ones are manufactured.
The main types are:
lamellar – a relatively thin acrylic or nylon plate with artificial teeth, attached to nearby abutment teeth with the help of special metal hooks (clasps) or locks (attachments);
a segment of the missing row – this device is one-sided, best suited for patients who have lost 2-3 posterior teeth of the lower jaw;
immediate dentures – because of their shape, they are also called "butterflies" these are temporary prostheses made of acrylic;
clasp dentures – artificial teeth are fixed along a metal arch with an acrylic framework; they are fixed in various ways: attachments, clasps or telescopic crowns; these prostheses are comfortable and durable.
Removable dentures
Such structures can be quickly taken off and put on.
Indications for their use are:
defects of the teeth of the frontal and lateral zone;
absence of the last teeth of the lower/upper row;
lack of posterior teeth on one side of the jaw;
pathological changes in periodontal tissues;
lack of teeth.
Types of fully removable dentures
Clasp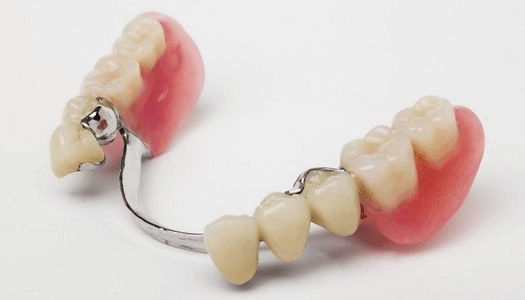 The basis of this structure is metal with a plastic layer. Composite crowns are placed instead of missing teeth. The clasp prosthesis fixes with attachments or clasps.
Advantages:
reliable fixation;
wearing comfort;
ensuring uniform chewing load;
ease of maintenance.
Disadvantages:
long-term adaptation;
you need to take them out.
Implant-retained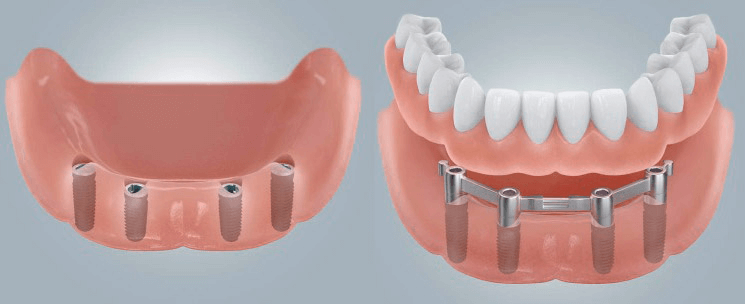 They are fixed on 2-4 artificial roots, completely imitating natural teeth. They are fixed with micro locks.
A patient can independently remove the prosthesis to clean it if necessary.
Advantages:
reliable fixation;
do not injure gums;
comfortable to wear;
even distribution of chewing load.
Disadvantages:
long-term adaptation (engraftment of implants lasts 3-6 months);
a relatively high price.
Quattro Ti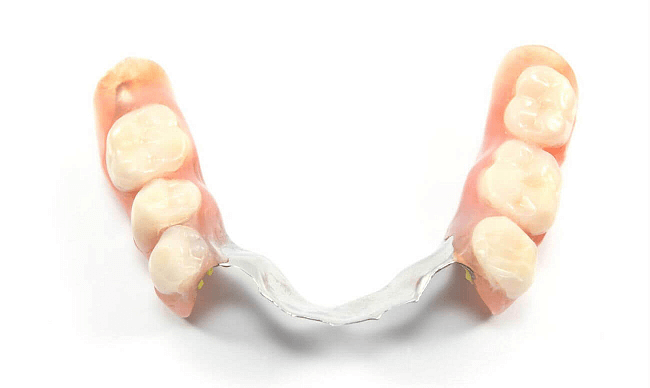 This structure was invented in Italy, and now it delights patients worldwide.
It is made of super lightweight materials (nylon or thermoplastic) that fix securely. Locks can be made in different colours; for example, they can fit into enamel shades.
Advantages:
strong fixation;
long term of use — up to 7 years;
aesthetics;
lightness and durability;
dentures do not rub even in the very first days;
maintainability.
The only downside is the high cost.
Immediate dentures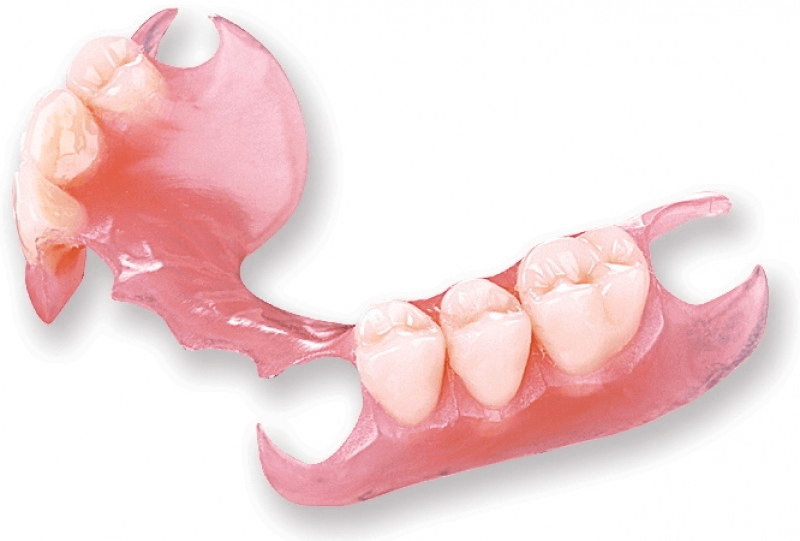 This is a simple temporary product to replace 1-2 missing teeth. Fixation is carried out using plastic or metal hooks on the adjacent abutment teeth, and it is acrylic.
Advantages:
fast manufacturing (1-2 days);
low price.
Disadvantages:
poor fixation;
not too comfortable to wear;
unaesthetic.
Lamellar dentures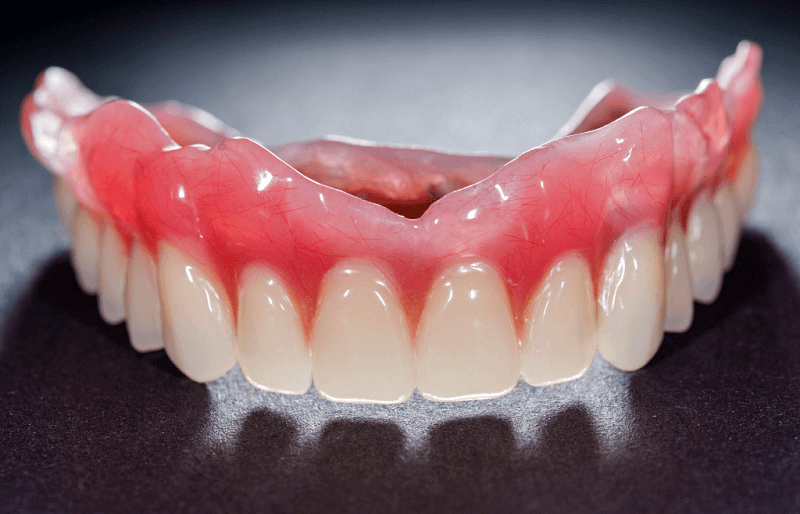 Plastic crowns are placed in a solid acrylic base. Fixation occurs due to a snug fit to the gums, and a "suction cup effect" is obtained.
Advantages:
reasonable price;
fast manufacturing;
easy to repair.
Disadvantages:
affect diction;
worsen the sensitivity of taste buds.
Nylon dentures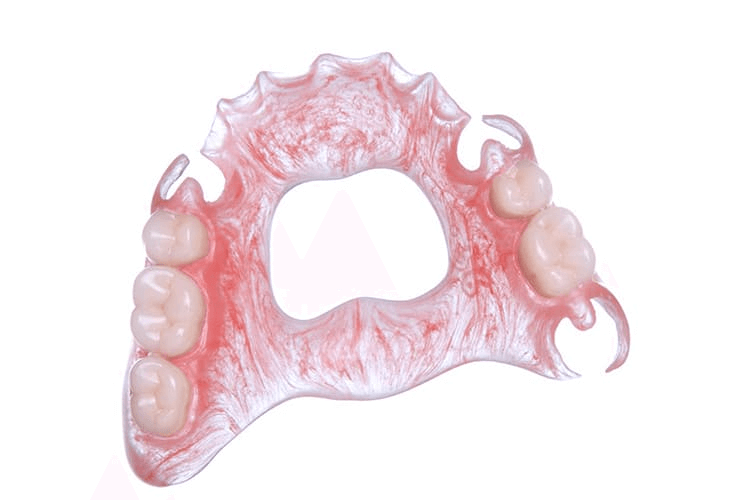 The material of manufacture is thin and flexible nylon. This structure is almost invisible on the gums.
The prosthesis is only a temporary solution since the base quickly shrinks.
Advantages:
convenient form;
due to the porous structure, bacteria do not accumulate under the prosthesis.
Disadvantages:
long manufacturing process;
rapid basis shrinking;
intense pressure on the mucous membrane and soft tissues.
Acry Free
They are placed in the case of a partially or entirely edentulous jaw. They are made from acrylic resins and special elastic plastic. As a result, they are strong and very flexible. They have anti-allergic properties.
Ideal for patients with allergies to materials used in dentistry, patients with gum disease, and low jaw muscle tone.
Advantages:
maintaining clear diction;
prostheses are hypoallergenic;
almost invisible on the gums;
elastic.
Disadvantages:
Is it possible to restore and save the dentition?
Dental prosthetics help restore the chewing and aesthetic functions of lost teeth. Even in the case of complete adentia, it can be corrected. In addition, modern dental technologies make it possible to compensate for the absence of teeth and to minimize possible inconveniences.
Materials used for dental prosthetics
Composites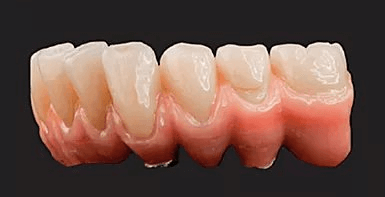 The basis of the material is polymers, supplemented with various additives like quartz, silicon, etc. In addition, they undergo special ultraviolet treatment to improve their strength properties.
Today, composite dentures are used to restore both anterior and posterior teeth.
Such an artificial tooth is built up in layers, each layer is irradiated, and the desired size and shape of the tooth are modelled.
The prosthesis can be of any colour, so it looks natural.
Ceramics / Cermet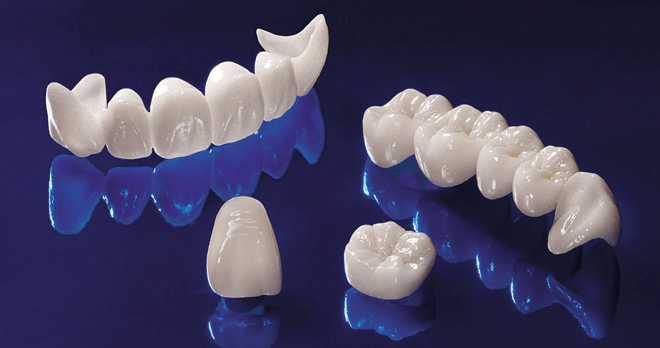 A widespread modern material for prosthetics, which has the following advantages:
hypoallergic;
good hygiene;
naturalness and aesthetics;
lightweight;
good biological compatibility.
When the prosthesis strength needs to be improved, metal is added to the ceramics. This may be necessary when making a prosthesis for several teeth or to replace chewing units.
Metal alloys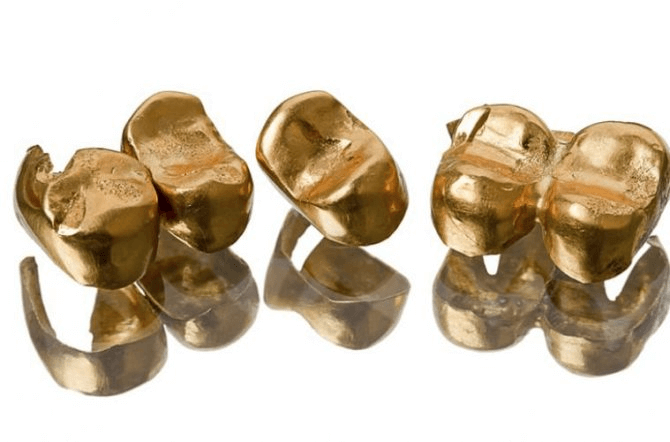 The most popular combinations that are used to make dentures:
nickel with chromium;
cobalt with chromium;
gold with palladium;
zirconium oxide.
It is covered with a ceramic layer to give the prosthesis a natural look.
Despite good functionality, metal prostheses may not be suitable for everyone. They can cause allergies or change the taste sensations.
The advantages of the material include:
high biological compatibility;
strength;
lightness;
simple placement;
heat resistance;
resistance to alkalis, acids, and corrosion.
Plastic materials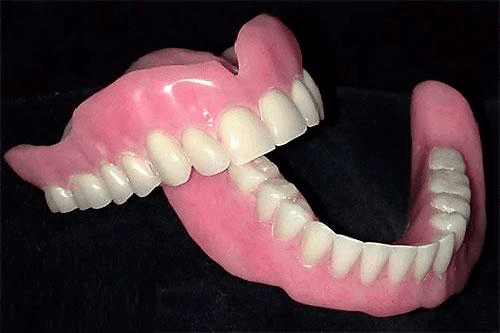 Plastic materials s are commonly used for removable prosthetics.
An essential advantage of such material is its affordable price.
The disadvantages include:
high smell absorption;
colour change under the influence of dyes (coffee, colouring fruits, vegetables, etc.);
the need for careful care to prevent the growth of bacteria.
Nylon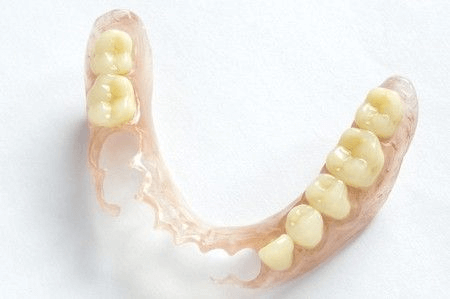 The material has many advantages:
lightness;
flexibility;
translucency;
safety for the body;
resistance to deformation, bacteria.
Disadvantages:
the fixation is not too reliable;
unnatural chewing load distribution due to excessive material flexibility.
Some prostheses combine the best qualities of nylon and plastics. They are called Acry Free.
Stages of Denture Manufacturing
Dental examination of the oral cavity and treatment assignment.
Preparation and treatment of the oral cavity. Before fixing the prosthesis, treating cavities and gum disease and removing the abutment teeth nerves are necessary. Then, if required, the crown part of the abutment teeth is restored, and the wisdom teeth are removed.
If necessary, the abutment teeth are prepared (the top layer is removed and aligned).
A special silicone mass is applied, and an impression for the prosthesis is taken.
Manufacturing of a collapsible plaster model of the prosthesis. It is the basis for creating a temporary plastic prosthesis.
Trying on and fitting the prosthesis. Next, the patient tries on a temporary prosthesis, and a dentist identifies its possible shortcomings. Next, the doctor specifies the shade of enamel and the position of the teeth.
Refinement of the prosthesis. Making a permanent structure.
Fitting and checking the permanent prosthesis. If necessary, make adjustments to the product.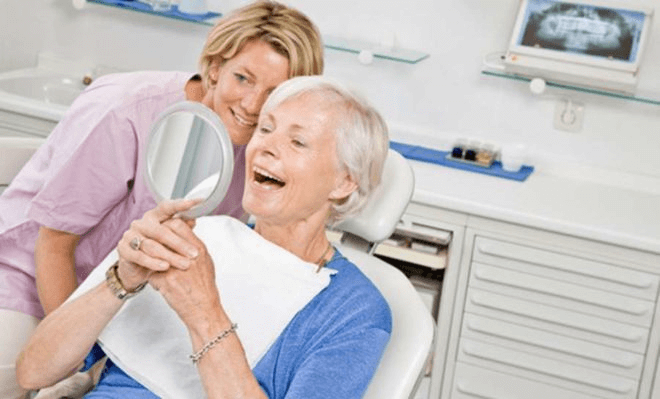 When and what type of prostheses to fix?
The choice of prosthesis depends on the specific problem of the patient.
Only a dentist can say what is better to put, considering a particular situation.
We can make general recommendations.
Modern prostheses for patients who have no or few teeth left
Nylon
Acrylic
All-on-4/6 Dental Implants
Clasp
New dentures for those who miss 1-2 teeth
Implant-retained denture
Bridge
The best solution to improve aesthetics
What types of modern dentures are better to choose?
The best option for the patient is the one that meets the indications. Only a professional dental consultation can give an accurate answer to this question.
If you are missing only part of a tooth or need to correct the appearance of one or more teeth, veneers or crowns are the ideal solutions.
Veneers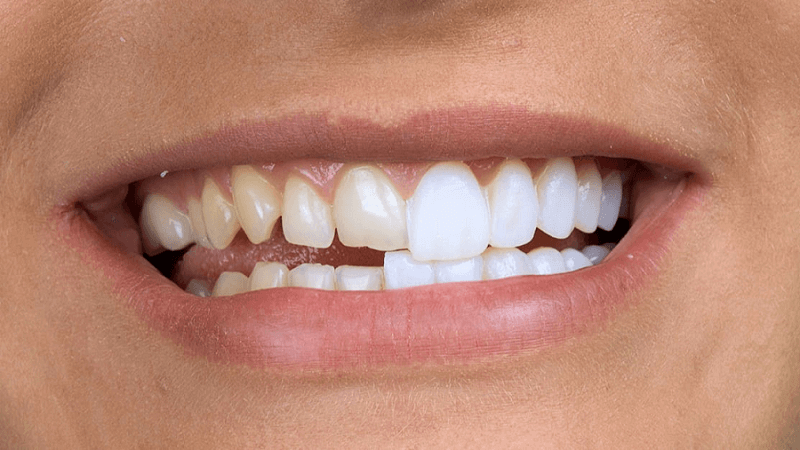 They look like plates glued to the tooth's outer part. They perform protective and aesthetic functions. Veneers are made from composite or ceramic.
Advantages:
reliable protection of teeth;
long service life (up to 20 years);
you can brush your teeth in the usual way;
fast placement;
natural look.
Disadvantages:
Limitations in certain types of food (solid and abrasive).
Non-repairable (replacement only).
Crowns

This is a structure placed on top of the tooth. It completely imitates a natural crown. It is made from metals, plastic, composite, ceramics or cermet.
Your prosthodontist will help you choose the most suitable crown material.
Conclusion
The latest advances in dentofacial orthopaedics help easily cope with the problem of missing teeth. A wide variety of modern materials and prostheses allows you to find the ideal solution for every particular case.